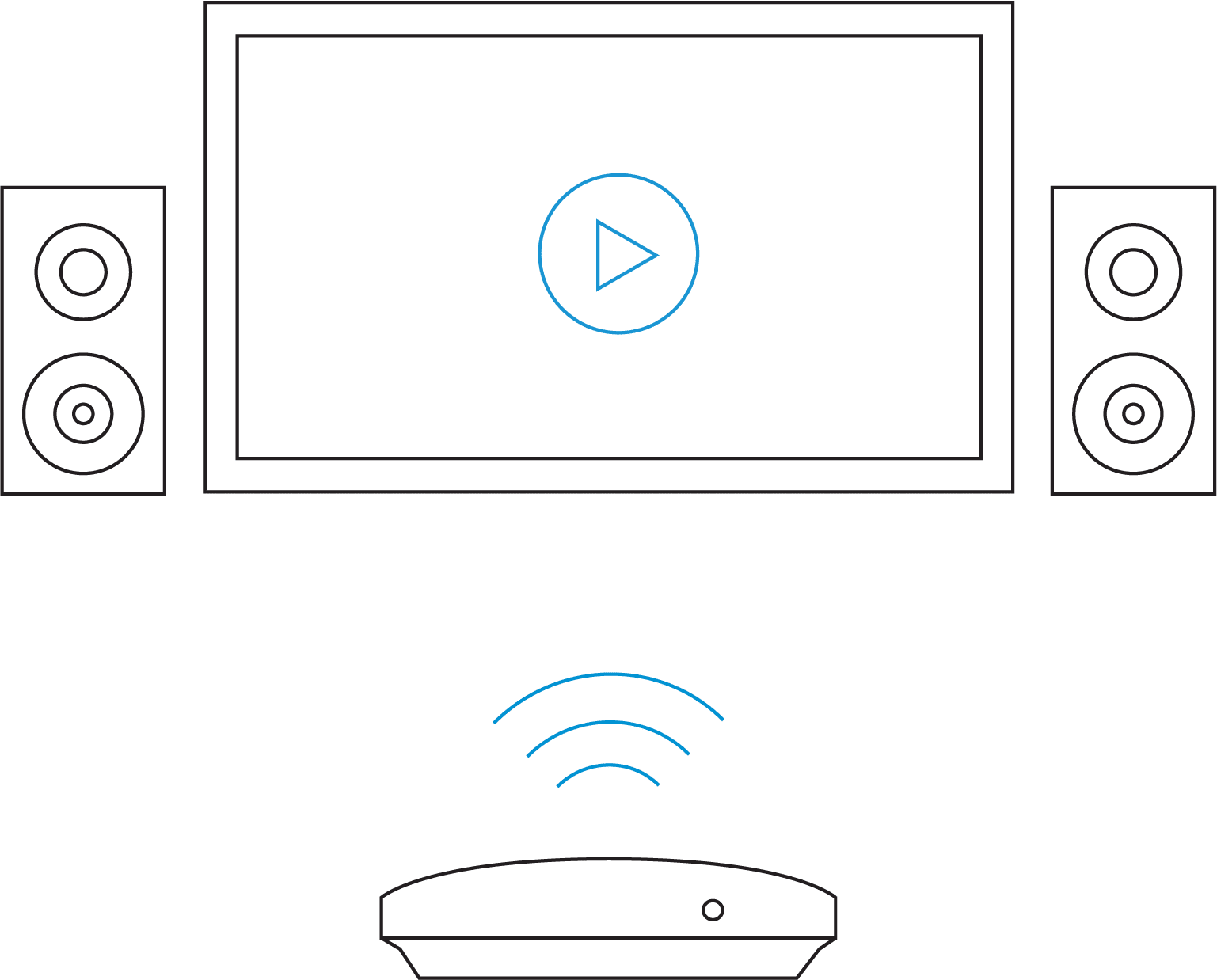 Wireless HDMI transmitter and receiver kits can be a good option for avoiding messy HDMI cables running up and down your walls or expensive installations to hide cabling within walls. With a wireless HDMI transmitter and receiver kit, you have the freedom to place your TV anywhere… in a business or in a home…in the living room, a bedroom or in the kitchen.
Now let's dive into some information on wired and wireless HDMI connections, and then look specifically at how transmitters and receivers work with the wireless system.
What is HDMI used for?
HDMI cables connect TVs to source devices, such as cable boxes, Blu-ray/DVD players, gaming consoles, or other media players. They allow you to transmit audio or video data from the source device so that it displays on your TV.
HDMI is a universally accepted connector for digital entertainment in the home.
Wired vs. Wireless HDMI
The primary differences between wired and wireless HDMI have to do with aesthetics as well as the ability to place your TV where you like in your home or in a business.
Both are capable of high quality video (including 4K) and audio transmissions.
Wired HDMI involves a direct, wired connection between your media source device and your TV display using an HDMI cable. However, the cabling can become unsightly in homes or business with wall mounted TVs, where messy cables dangle from the TV to the media player. One alternative of course is to drill holes and invest in sometimes costly installations in order to hide cables in the walls.
Wireless HDMI transmits HD video and audio from set-top source to a TV using transmitters and receivers. The set-up is simple, and this approach offers a lot more freedom in terms of where you can place your TV. 

How Transmitters and Receivers work
The HDMI video transmitter and receiver work together, and they do different things.
A transmitter wirelessly sends a data signal stream.
A receiver receives the data and streams it to your TV.
It really is as easy as that.
Transmitter – The wireless HDMI transmitter connects to the video or audio source device. Typically this is a set-top box, Blu-ray, gaming console or other media player. The transmitter then sends a wireless signal from your source device to the receiver.
Receiver – The receiver connects to your TV. It then wirelessly receives the audio/video data stream from the transmitter up to a 150-feet away and displays it on the TV. As a result, you can have your TV in a completely.
How to Setup a Wireless HDMI Kits
Setting up a wireless HDMI kit, like Actiontec's MyWirelessTV, is simple. You connect a transmitter to a media source device and a receiver to your TV or other display. Your transmitter then wirelessly sends the video stream to the receiver. 
Setting up the Transmitter:
Select the Source Device (cable box, Blu-ray or other media player) from which you wish to transmit a signal to your TV.
Using a short HDMI cable, connect your Source Device to the transmitter.
Plug the transmitter power supply in to a power outlet.
Setting up the Receiver:
Using a short HDMI cable, connect your HDTV to the receiver.
Plug the receiver power supply in to a power outlet.
Once all devices are powered on and the TV input is set to the appropriate HDMI connection, you are ready to stream away!