ScreenBeam 1100 Wins Best of Show Award at InfoComm 2019 Presented by AV Technology
SANTA CLARA, CALIF. — June 19, 2019 — ScreenBeam, a global leader in wireless display and collaboration solutions, is a recipient of the Future Best of Show Award, presented at the 2019 InfoComm Show by AV Technology.
Future's Best of Show Awards are evaluated by a panel of judges and editors, experts in the pro-AV industry, and are selected from submitted products based on a range of criteria including innovation, ease of use, quality, return on investment, and market relevance.
"The Future Best of Show Awards at InfoComm are in their sixth year," said Adam Goldstein, Future VP market leader for AV, Pro Audio and CE. "The program focuses attention on superb innovations in technology as seen around the exhibit floor of the industry's top trade show. The list of 2019 winners and nominees shows where our industry is headed."
No Apps, No Dongles, No Kidding
Launching globally at InfoComm 2019, ScreenBeam 1100 is a new 4K wireless display platform that combines local Wi-Fi mode, industry standard Miracast™, and dual-network infrastructure connectivity to easily enable wireless collaboration in any meeting space. The ScreenBeam 1100 enables device connection to guest and enterprise networks simultaneously, allowing guest Internet connectivity for collaboration alongside employee access. Employee devices remain isolated to allow access to enterprise network resources without compromising security. ScreenBeam 1100 supports all major OS platforms to provide an app-free screen sharing experience for Windows, Apple and Android devices.
Unlike many application-based solutions, ScreenBeam natively supports Windows and macOS extended screen mode ensuring content privacy while keeping the device screen available for other actions. With built-in local Wi-Fi mode and network bridge functionality, the new platform delivers reliable connections with low latency for a truly hassle-free experience that users will enjoy.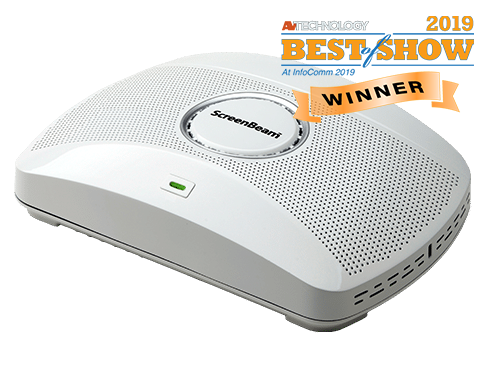 Enhanced Office 365 Collaboration
ScreenBeam technology is native in Windows 10/11 devices, fully enabling native inking across Office 365 apps, plus support for interactive touch displays achieves easy meeting collaboration. Windows 10/11 users simply press Windows + K to instantly connect and wirelessly present, then markup displayed content from anywhere in the room, and instantly save and share.
"As a first-time InfoComm exhibitor we couldn't be prouder of the response and excitement our ScreenBeam 1100 is creating in the ProAV market," said Mike Ehlenberger, Vice President and General Manager of ScreenBeam. "Winning the Best of Show Award is another major feather in our cap in knowing we are providing a top collaboration solution that stands out beyond other competition in the marketplace."
About ScreenBeam
ScreenBeam, an Actiontec Electronics business, is the global leader for wireless display and collaboration solutions. ScreenBeam wireless display solutions are used as the validation platform for wireless display functionality by companies like Microsoft and leading PC OEM and device companies. ScreenBeam is Microsoft's co-engineering partner for wireless display and worked with Microsoft to develop wireless display capabilities in Windows 10/11 and 8.1. ScreenBeam wireless display is transforming thousands of classrooms and meeting spaces worldwide, increasing student learning outcomes and workforce productivity.
ScreenBeam / LinkedIn / @screenbeam
Actiontec, ScreenBeam, the Actiontec logo and the ScreenBeam logo are either trademarks or registered trademarks of Actiontec Electronics Inc. in the United States of America and/or other countries. macOS, iOS, Mac and OSX are either trademarks or registered trademarks of Apple Inc. in the United States of America and/or other countries.
###
Press Contact:
Christina Armstrong
Director Corporate Communications
ScreenBeam
(408) 940-2065