Whitepaper: Draadloze samenwerking in bedrijfsomgevingen
Het afgelopen decennium hebben draadloze presentatiesystemen een grote opmars gemaakt als gevolg van de vooruitgang in rekenkracht en draadloze technologieën. Het oorspronkelijke doel van draadloos presenteren was het oplossen van het probleem van het aansluiten van externe beeldschermen op computerapparatuur, even eenvoudig als VGA en HDMI, zonder de kosten en het ongemak van vaste kabelinstallaties. Naarmate de aanwezigheid van mobiele apparaten in bedrijfsomgevingen toenam, nam de druk om draadloze weergaveoplossingen te installeren toe.
De toename van aanraakschermen en interactieve whiteboards in de afgelopen jaren heeft het principe van draadloze presentatie verder veranderd in draadloze samenwerking. De toename van het aantal alternatieve vergaderruimten, zoals staanvergaderruimten en de groei van Unified Communications (UC), vereisen op grote schaal inzetbare oplossingen die gemakkelijk kunnen worden geïntegreerd in de infrastructuur, terwijl de totale kosten laag moeten blijven.
De combinatie van bedrijfsbeveiliging en effectief beheer van draadloos spectrum met draadloze presentatie en samenwerking zorgt voor extra uitdagingen tijdens de implementatie. De inherente beveiliging van bedrade eenrichtingsvideoverbindingen met displaysystemen is, als gevolg van een groot aantal factoren, moeilijk te repliceren in draadloze presentatie- en samenwerkingssystemen. Zodra BYOD-apparaten in gebruik komen door gasten of andere gebruikers, wordt het nog moeilijker om de problemen op het gebied van beveiliging en draadloos beheer effectief aan te pakken.
Deze white paper geeft een overzicht van de vereisten om alle bovengenoemde factoren binnen een bedrijfsomgeving effectief te beheren. De meeste van deze principes zijn van toepassing op enterprise-achtige implementaties bij de overheid of in het hoger onderwijs, en niet-enterprise-omgevingen voor kleine bedrijven of K-12-implementaties.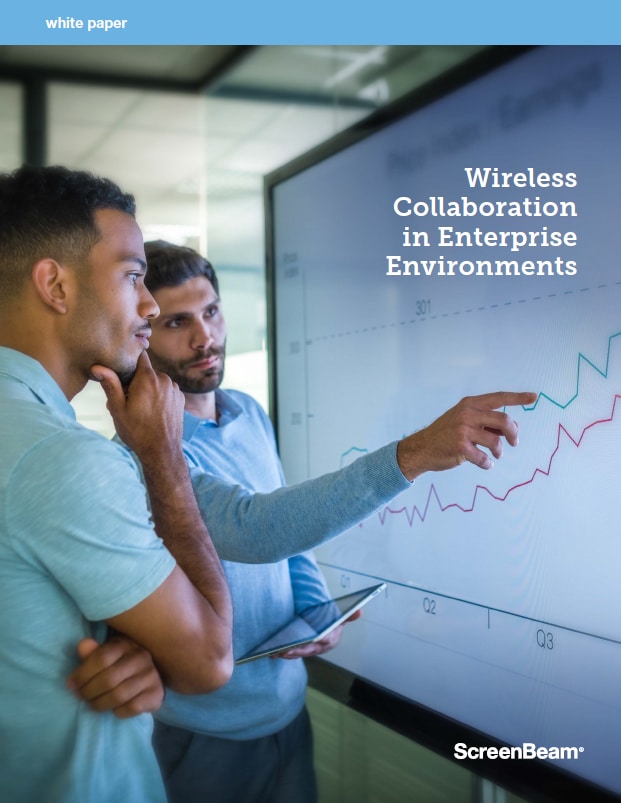 Wat wordt behandeld in deze gedetailleerde white paper:
Inzicht in en aanpak van beveiliging
Inzicht in netwerkinfrastructuur en draadloos spectrumbeheer
Beheers- en gebruikersproblemen
Integratie met UC-toepassingen of ruimtesystemen
Beperkingen en gebruiksscenario's van draadloze samenwerking
Hoe volledige bedrijfsnetwerkisolatie te bereiken, terwijl de toegang voor werknemers en gasten intact blijft
Speciale overwegingen voor iOS-, macOS-, Android-, Chrome- en Windows-apparaten
Succesvolle en ongecompromitteerde implementatie