How to integrate ScreenBeam wireless display to a Dell Optiplex, Logitech MeetUp, and USB capture card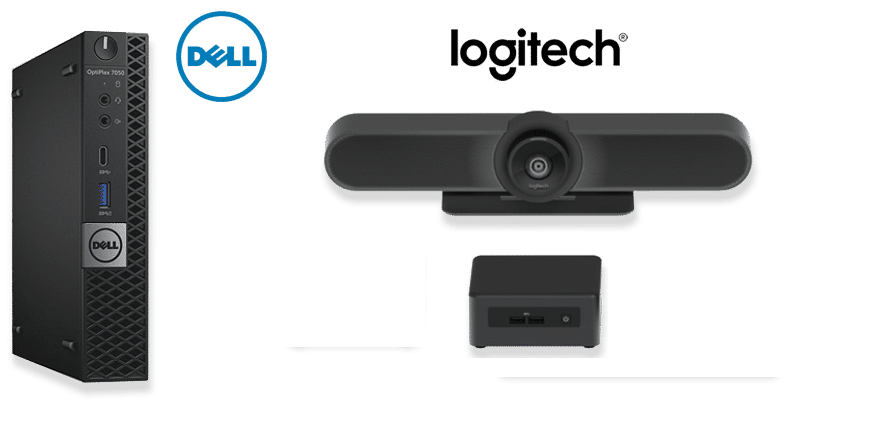 Integrating ScreenBeam in-room wireless display into a Dell Optiplex, paired with the Logitech MeetUp video bar and an HDMI to USB Capture Card, allows participants within a conference room to join a UC session without requiring a PC to host/join the meeting. They can simply walk in and join by using a wireless keyboard or mouse to launch the UC meeting.
When users need to share content, it's as easy as connecting through the native screen sharing technology built into their PC or mobile device. Content is then shared both in-room as well as with remote participants. The ScreenBeam receiver provides an app-free and standards-based wireless connection for Windows, Android, iOS, macOS and Chromebook devices eliminating all contact points including dongles, buttons, remote controls and switches. ScreenBeam wireless display allows in-room users to wirelessly share content to the room display so that everyone, both in-room and remote participants, can view together.
In this configuration, the Dell Optiplex runs the UC software of choice while the Logitech MeetUp provides the camera, microphone and speaker functions. The HDMI to USB capture card brings content shared through ScreenBeam, injecting it into the UC meeting as well as displaying the content on the in-room monitor.
With a Windows 10/11 device and a touch-enabled room display, presenters can instantly capture and save annotations on the room display and share with the other room attendee's in real-time. Read more about how ScreenBeam's support for Microsoft Windows Ink and interactive touch displays can digitally transform meetings here.
ScreenBeam is connected to Optiplex (running Teams/Zoom) via HDMI to USB Capture card
Optiplex is connected to display via display's HDMI Input
Optiplex is also connected to Logitech Meetup (cam, mic, etc) via USB
User's control meeting via Keyboard/Mouse (launch Teams, etc)
Optional touch screen connected to SB via USB for ink/annotation in Windows