LEER HOE
Het implementeren van contactloze technologieën in uw vergaderruimtes zal essentieel zijn voor de veiligheid van uw werknemers
Maak overal contactloze vergaderingen mogelijk

Het is tegenwoordig essentieel voor de gezondheid en productiviteit van werknemers om veiligere, eenvoudigere en slimmere werkplekken te creëren. ScreenBeam 1100 Plus is een app-vrije draadloze display- en conferencing-oplossing, die alle contactpunten elimineert om een veilige samenwerking tussen werknemersgroepen te garanderen; er zijn geen kabels, knoppen, dongles, afstandsbedieningen of schakelaars nodig.
Leer hoe ScreenBeam 1100 Plus draadloze presentatie facilitaire- en AV/IT-teams kan helpen bij het creëren van een veilige samenwerking tussen werknemersgroepen, het implementeren van contactloze technologieën in vergaderruimtes en het vinden van manieren om het veiligheidsbeleid van het bedrijf te communiceren.
Elimineer contactpunten in vergaderruimtes met ScreenBeam 1100 Plus. Het enige app-vrije cross-platform draadloze 4K-presentatiesysteem dat alle contact met kabels, adapters, afstandsbedieningen en schakelaars elimineert.

Gebruik displays in vergaderruimten en grote gemeenschappelijke ruimten om communicatie met werknemers en gasten over te brengen met geïntegreerde HTML-gebaseerde digital signage-functionaliteit.

Gebruik displays in werkruimten voor contactloze "stand-up"-vergaderingen.
Aanraakpunten en besloten ruimten
Denk eens aan alle technologie in de meeste vergaderruimten; deze zitten vol met snoeren, kabels, schakelaars, enz. De beste manier om deze te verminderen is door gebruik te maken van draadloze verbindingen, wat ook betekent dat mensen niet hoeven te clusteren. Presentatoren kunnen met app-vrije draadloze presentaties rechtstreeks vanaf hun eigen pc verbinding maken, zonder dat ze een fysieke connector hoeven aan te raken.
Is samenwerking mogelijk op twee meter afstand?
Staande vergaderingen hebben verschillende voordelen – de deelnemers zullen waarschijnlijk bondiger zijn, wat leidt tot inhoudsrijkere vergaderingen in minder tijd. Er zijn ook gezondheidsvoordelen verbonden aan staand vergaderen in plaats van zittend vergaderen. Dit soort bijeenkomsten werkt waarschijnlijk beter in grotere ruimtes dan in een speciale vergaderzaal. U kunt open ruimtes hergebruiken en een aan de muur bevestigd scherm en draadloos scherm gebruiken om visuals en agenda's te tonen en discussies gefocust te houden.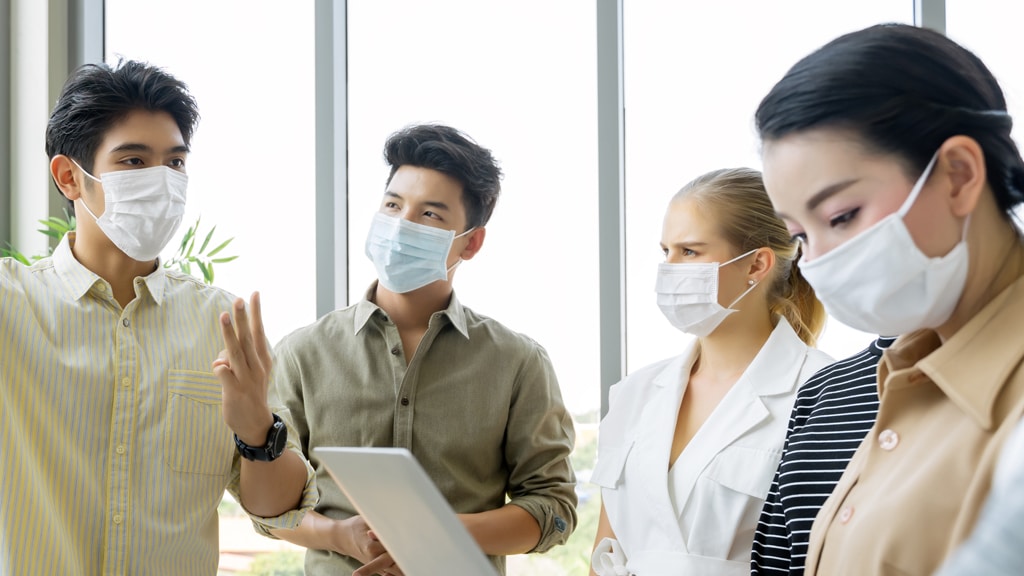 Digital Signage is een krachtig hulpmiddel voor communicatie
Conference room digital signage can provide you with a communication channel that enhances the workplace while also providing social distancing advantages. Sharing messages on a display reduces touchpoints and workplace clutter. Admins can quickly and easily connect to displays to quickly update content to improve the office experience. It can also serve as a means to inform and share information with employees about COVID-19 related policies.Met digital signage voor vergaderruimtes beschikt u over een communicatiekanaal dat zowel de werkplek verbetert als voordelen biedt op het gebied van sociale afstand. Het delen van berichten op een display vermindert het aantal contactpunten en de rommel op de werkplek. Administrators kunnen snel en eenvoudig verbinding maken met displays om snel inhoud bij te werken en zo de kantoorervaring te verbeteren. Het kan ook dienen als een middel om werknemers te informeren en informatie te delen over beleidsregels met betrekking tot COVID-19.