Instantly transmit alerts and notifications throughout your facilities
ScreenBeam Alert is a powerful tool to enhance your existing Emergency Response Programs.
ScreenBeam Alert empowers companies, schools and Universities to instantly transmit alerts and notifications to any meeting room or classroom with a ScreenBeam-enabled display. Available as a free feature of Enterprise class Central Management System (CMS-E), with just a few clicks your CMS-E Administrator can interrupt any active digital signage or active presentation or lesson to send an urgent message notifying people near the display to take specific actions or to be aware of other important information.
Built around our Award-Winning Wireless Display technology, ScreenBeam Alert is a simple, effective communication feature designed to help keep your employees, teachers and students informed during any situation that requires quick communication, particularly an emergency.
When added to your Emergency Response Program, it adds an additional layer of notification and communication throughout your facilities wherever a ScreenBeam receiver is installed
ScreenBeam Alert is a free feature available with ScreenBeam Central Management System Enterprise software (CMS-E). A CMS-E perpetual license is included at no charge with the ScreenBeam 1100 Plus and ScreenBeam 1000 EDU receivers.
ScreenBeam Alert Key Advantages
Free upgrade available to all CMS-E users with ScreenBeam 1100 Plus and 1000 EDU devices
Quick, Pre-emptive Alerts
Immediately interrupts active presentations and digital signage to deliver urgent notifications
Location and Network Specific
Alerts can be sent to any Site, Campus or group of receivers and across networks.
Customizeable Messaging
Messages are fully customizeable to match any scenario or notification requirement.
Administrator Control
Only authorized CMS-E Administrators have access to send and clear notifications.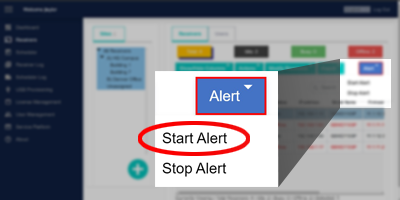 STEP 1
On the CMS-E main dashboard, click Alert and select Start Alert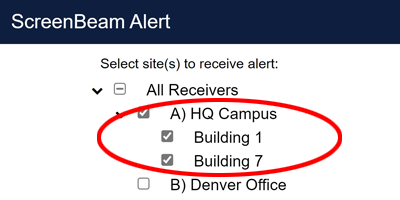 STEP 2
Select Site(s) to receive Alerts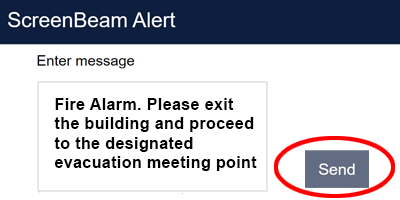 STEP 3
Enter notification and hit Send.
ScreenBeam Webinar
Come join our ScreenBeam technology experts as they give a live demonstration of the latest features and benefits of ScreenBeam Conference software along with our award-winning 1100 Plus Wireless Display Receiver.