ScreenBeam | 1000 EDU
4K Wireless Display for Schools • App-free • Wireless Touch • Extended Screen • Enterprise Management • And, Classroom Orchestration • Yes, it's what you've been looking for.
Wireless screen mirroring is an essential tool for moving teachers from the front of the classroom and into the classroom, making it easier to connect and collaborate with their students. 
The result is the right kind of teacher and student interactions that foster creative productivity and encourage meaningful collaboration. The need is clear and it is already being met by education institutions all over the world. Keep scrolling to hear from ScreenBeam experts that are making a difference everyday in their classrooms but getting the most out of their devices.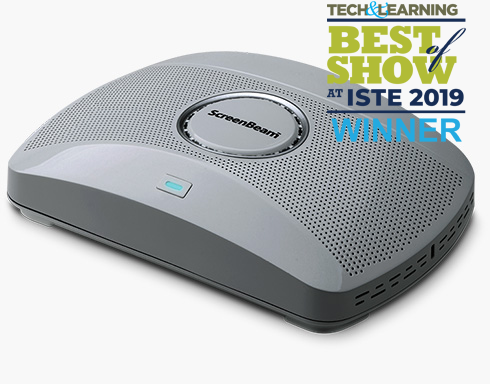 CATALOG NUMBER
SBWD1000EDU
License restricted only for use in accredited education institutions
ScreenBeam has impacted tens of thousands of teachers and students across the globe. Take a look and listen to them, follow them on Twitter, ask them yourself. We don't sell devices, we sell impact in the classroom.
Bonus Feature! ScreenBeam Classroom Commander
Orchestration for student Windows 10 devices
ScreenBeam 1000 EDU includes Classroom Commander combining wireless display with student Windows 10 device orchestration to boost student interaction and collaboration. Set up the classroom how you want: desks and chairs, bean bags and couches, it doesn't matter. Students can share from wherever they are and teachers can be agile and get the most out of their devices.
Native wireless screen mirroring means no apps or wires
Present from anywhere in the room
Share any form of content—videos, images, slides, etc.
Extended desktop maintains use of device for other actions
Collaborate wirelessly using touch displays and Windows Ink across Office Apps
Digital signage provides information to students while idle
Combines local Wi-Fi connectivity and Miracast and network infrastructure connectivity
Up to 50 student devices simultaneous connections
Connects to displays, projectors and switches via HDMI and USB
ScreenBeam is Enhanced Wireless Display
Native Extended Display
Unlike many application-based solutions, ScreenBeam natively supports Windows and macOS extended screen mode ensuring content privacy while keeping the device screen available for other actions.
Wireless Touch and Inking
Combine native Windows Inking across Office 365 applications with a touch display and ScreenBeam to share notes, presentations and more directly to student devices or the front of room display.
Wireless Mobile Document Camera
With ScreenBeam, teachers can accomplish the same function of a document camera with their mobile device. Simply turn the Webcam feature in your mobile device into an instant, mobile document camera!
Walking Digital Whiteboard
Microsoft Whiteboards make it easy for teachers to organize and communicate ideas creatively. ScreenBeam turns that into a mobile experience to take student interaction and collaboration to a new level.
Buy
Empowering businesses and educators to achieve.
Hardware
Video
• H.264 compression
Audio
• LCPM 2.0
Resolution1
• Up to 4K60(HDMI), 4K30 (Windows 10 Miracast)
Ethernet
• 10/100/1000-BASE-T RJ-45 LAN (non-concurrent with Network Bridge)
Wireless
• Miracast and Local Wi-Fi Mode: 802.11ac dual-band 3×3 MIMO
• Network Bridge: 802.11ac dual-band 2×2 MIMO (non-concurrent with Ethernet)
Authentication
• WPA-PSK (TKIP)
Protocol
• WPA-PSK (TKIP)
• PEAP-MSCHAP V2
• EAP-TLS
Interface
• 1 x HDMI Output
• 1 x VGA Output
• 1 x Analog 3.5mm audio Output
• 2 x USB 2.0 Host Type-A
• 1 x USB 3.0 Host Type-A
• 1 x DC Power Jack
Content Protection2
• HDCP 2.x
Power
• Input: 12VDC, 3A
• Consumption: 8.4W (typical), 36W (peak)
Dimensions
• 8.66 x 5.66 x 1.99 inch (220 x 144 x 50.5 mm)
Operating temperature
• 0º – 40º C (32º – 104º F)
Storage temperature
• -20º – 85º C (-4º – 185º F)
Operating humidity
• 20 – 80% non-condensing
Storage humidity
• 10 – 90% non-condensing
Compatible OS/Device
Miracast P2P wireless display requires certified device with either:
• Windows 10 build 1607 (and later) or Windows 8.1
• Android 4.2 (and later)
Wireless display over network requires device with either:
• Windows 10 build 1709 (and later)
• Windows 7 (and later)
• macOS 10.10 (and later)
• iOS 11 (and later)
• Chrome OS 74.0.3729.159 (and later)
Language support
• English
Others
Regulatory and compliance
North America:
• FCC and UL
European Nation:
• CE, RED and RoHS
Warranty
• Localized to country of sale