ScreenBeam | Mini2 Kit
Mirror Content and Videos from a Windows 7/8 Device to a High-Definition TV, Wirelessly
The ScreenBeam Mini2 Wireless Display Kit wirelessly mirrors all your favorite content and productivity apps from your Windows 7/8 laptop, PC or tablet to a high-definition TV, without a Wi-Fi network or wireless router.
The kit contains everything you need to create a wireless point-to-point connection between device and room display. A wireless dedicated connection means no crashing, lag times, and choppy or freezing video, and no need to run cables or drill holes.
ScreenBeam Kit Includes:
ScreenBeam Mini 2 receiver
ScreenBeam USB Transmitter 2
ScreenBeam wireless display software (download online)
Energy-efficient power supply
USB power cable
HDMI extension cable
Installation guide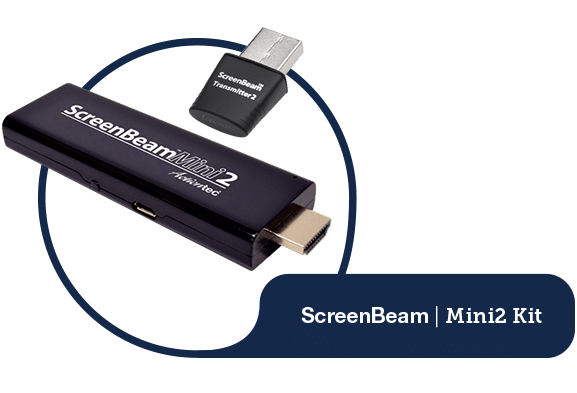 MODEL NUMBER
SBWD60A: ScreenBeam Mini2 Receiver

SBT200DI: ScreenBeam USB Transmitter 2
CATALOG NUMBER
SBWD60KIT02: ScreenBeam Mini2 Kit
Optimized for Windows
Working closely with Microsoft, Actiontec optimized the ScreenBeam Mini2 Kit for legacy Windows 7 and Windows 8 devices. So if you have a device running Windows 7 or 8, you won't miss out on the power and entertainment that wireless display delivers! The ScreenBeam Mini2 Kit is guaranteed to provide the best wireless display performance and is designed to deliver a seamless extension of the Windows experience.
Enjoy Favorite Content, Anywhere
With ScreenBeam Mini2 Kit, users beam their favorite videos, photos and movies to the best high-definition display in the house. Simply connect the compact ScreenBeam Mini2 receiver to a high-definition TV, then plug the ScreenBeam USB Transmitter 2 adapter into your Windows 7/8 device. The adapter enables wireless display from legacy Windows devices that lack native Miracast™ support, the global standard for wireless display. Now sit back and enjoy movies and shows from Netflix, Hulu, Amazon, or YouTube on a big display. Share vacation photos and videos with the entire family, without ever having to huddle around a tiny screen again.
No Wi-Fi Network Required
ScreenBeam Mini2 Kit contains everything users need to create a Miracast-enabled, point-to-point connection between the device and the room display. Move heavy video traffic off the network, saving valuable bandwidth. A wireless dedicated connection means no crashing, lag times, and choppy or freezing video, while delivering professional display quality and very low latency.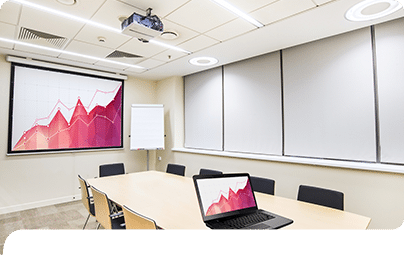 Industry Standard for Wireless Display
ScreenBeam solutions are used as the validation platform for wireless display functionality by companies like Microsoft, Intel, and leading PC OEM and device companies. Actiontec is Microsoft's lead partner for wireless display and worked with Microsoft to develop wireless display capabilities in Windows 10/8.1. ScreenBeam is an official development partner for Windows 10 and is deployed in thousands of Microsoft campus conference rooms across the globe.
Because of Actiontec's deep roots as the industry leader, and our ongoing investment in supporting industry device manufacturers, you can be assured that you're deploying the most broadly compatible, feature rich wireless display platform.
ScreenBeam Mini2 Receiver:
• Language: Multi-language
• A/V Interface: HDMI, Type A male connector
• Port: USB Host 2.0
• Video Output: Up to 720p with ScreenBeam USB Transmitter 2
• Audio Output: LPCM, two-channel stereo
• Wireless: IEEE 802.11a/b/g/n dual-band 5 GHz and 2.4 GHz
• Wireless Security: WPA2, WPS PIN pairing, AES 128 bit
• Content Protection: HDCP 2.x
• Power Input: 5V / 1A
• Power Consumption: <4W
• Dimension: 3.86 x 1.18 x 0.47 inch
• Regulatory Compliance: FCC, IC, UL
• Warranty: One year limited
ScreenBeam USB Transmitter 2:
• 802.11/a/b/g/n/ac dual-band 2.4 GHz and 5 GHz
• I/O USB 2.0 type-A
• Regulatory Compliance: FCC, IC, UL
• Warranty: One year limited