Enable Safe Workplace Collaboration With ScreenBeam Wireless Presentation.
ScreenBeam offers the industry's only 100% app-free wireless presentation system that eliminates all contact points between the user device and the room display.  Just tap once and users can wirelessly present and markup content on in-room displays from any personal device.
What sets ScreenBeam apart from the rest.
Native wireless connections provide a  seamless wireless projection experience across Windows, Android, iOS, macOS and Chromebook devices.
100% app-free and eliminates all contact points including dongles, buttons, remote controls and switches. Creates a standards-based wireless connection from any user device.
Multi-network architecture with three physical network interfaces to connect both employee and guest devices without compromising security.
Integrate ScreenBeam into a UC system and merge both  technologies into a single, collaborative experience of wireless display and UC conferencing.
Centrally monitor and manage receivers with multi-user and role-based access capability included in every receiver.
Three levels of security include network certificate-based security requirements are met, AES128 encryption to keep content safe, and customizable PIN pairing options.
Watch Video: ScreenBeam 1100 Plus Introduction
A quick introduction to the ScreenBeam 1100 Plus, learn about how to get connected from different types of devices and a few key features..
Where ScreenBeam wireless display can help you.
Consider all the technology in most meeting spaces—dongles, cables, switches, etc. The best way to reduce these is by using wireless connections, which also means people don't need to cluster and can maintain social distance. ScreenBeam app-free wireless presentations allows presenters to connect directly from their own PC without having to touch a physical connector.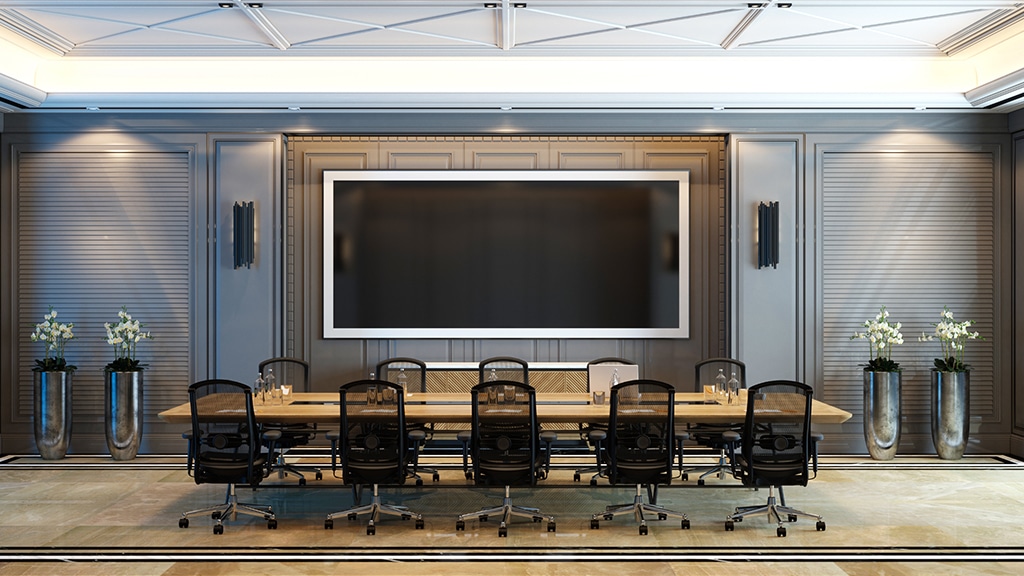 Large Spaces or Boardrooms
These spaces tend to secure the larger AV technology spends where room control, conferencing and automation are all in play. ScreenBeam 1100 Plus easily integrates into a UC device to merge both technologies into a single collaborative experience while still eliminating all touch points for a contactless experience.
Stand up meetings have several benefits—attendees will likely be more concise, leading to more meaningful meetings in less time. These types of gatherings will likely work better in larger spaces rather than a designated conference room. You can repurpose areas that are open and use a wall-mounted screen and wireless display to show visuals and agendas and keep discussions focused.