Merge Wireless Display and Screen Sharing into Your UC System
Share it with your networks
Workplace communication can be a challenge when employees are dispersed between in-room and remote locations. Unified Communication (UC) systems help solve this issue by streamlining communication into one unified solution no matter if employees are in the same room, on the other side of campus or across the globe.
UC systems are crucial and powerful tools for workplace collaboration. By integrating ScreenBeam wireless display with your existing (or planned) UC system, you can deliver a holistic solution that merges these two technologies into a single, collaborative experience for both on site and remote meeting participants. It's as simple as plugging in an HDMI cable from the ScreenBeam output directly into the HDMI input of your UC appliance and you are ready to go.
ScreenBeam and UC integration improves your productivity by transforming meeting interactions. Whether employees are in-room or remote, enhanced UC leads to more effective and natural collaboration. With ScreenBeam, physical distance isn't an obstacle.
For example, integrating ScreenBeam with UC systems like Microsoft Teams or Zoom Rooms makes in-room and remote meeting experiences highly productive. In-room participants get the mobile and collaborative nature of wireless display. At the same time, remote participants can view the shared content video feeds. Everything happens in real time.
In conference rooms with interactive touch displays that support Windows 10/11 inking capabilities, in-room participants can wirelessly ink and annotate shared content. Remote participants can also view annotations in real time. This reduces the need to re-group after meetings to catch up on notes and increases your productivity time. No more forgetting to send meeting notes to the team after meetings since its all captured natively and can be instantly shared.
ScreenBeam 1100 Plus is a cross-platform receiver that enhances unified communications. It allows users to wirelessly share content on the room display from any personal device, Windows, macOS, iOS or Chromebook. Employees and guests can easily and securely connect through multiple paths, such as Miracast, local Wi-Fi mode or network infrastructure connectivity.
A few benefits of ScreenBeam 1100 Plus wireless display and UC system integration are:
Sharing content with meeting participants is easy, no matter where they are located
No apps to install or maintain and no dongles to connect
Easy to set up
Easy to use without training
All of these benefits rolled into one ScreenBeam 1100 Plus receiver reduces cost and simplifies conference room design.
ScreenBeam 1100 Plus supports HDMI switching between wireless display and the built-in HDMI input. Whether your UC system has a control panel or is powered by a PC, you only need an HDMI cable to make the connection successful.
ScreenBeam 1100 Plus wireless display is designed to solve business challenges that enterprises face today. To experience it for yourself, contact our friendly ScreenBeam representative today.
Download our white paper, Wireless Collaboration in Enterprise Environments, to learn how to successfully enable wireless presentation and collaboration across your enterprise. Simply fill out the form below!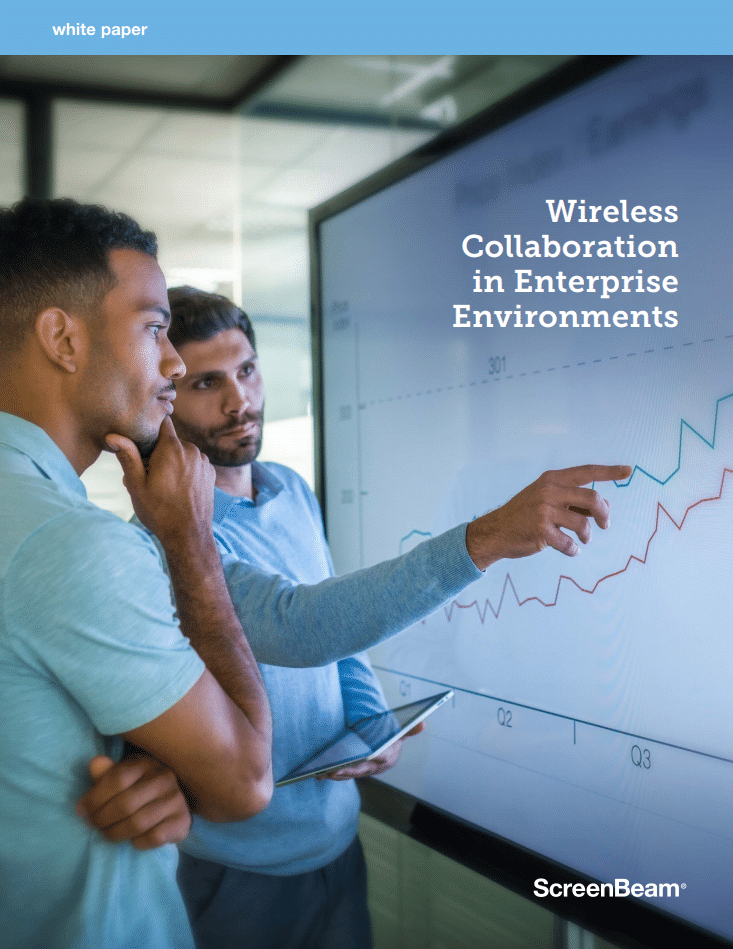 FEATURED PRODUCT
ScreenBeam 1100 Plus
Designed to be the most flexible enterprise wireless presentation and collaboration solution available at a price that can't be beaten. App-free wireless presentations from any device with ability to wirelessly markup content on in-room displays for a natural workflow. IT administrators can simultaneously connect employee and guest devices with total network isolation. Integrated HTML-based digital signage and HDMI® switching reduce capital costs.
The terms HDMI, HDMI High-Definition Multimedia Interface, HDMI Trade dress and the HDMI Logos are trademarks or registered trademarks of HDMI Licensing Administrator, Inc.