ScreenBeam Classroom Commander
Wireless Orchestration for Windows 10 Classrooms.
Interactive learning thrives in the modern classroom. ScreenBeam Classroom Commander is an easy-to-use orchestration system for Windows 10 classrooms, that also delivers classroom agility.
By combining wireless display connectivity with premium orchestration functionality, ScreenBeam Classroom Commander improves lesson flow and collaboration by untethering teachers from the classroom display and enabling classroom agility. Now teachers can move freely and interact with students without interrupting instruction. Constructive feedback is made easy with support of Windows Ink and touchback, allowing teachers to annotate directly onto a student screen from the classroom display—even when student devices are not natively touch-enabled.
With the ScreenBeam Classroom Commander
Foster teacher mobility and classroom agility
Wirelessly present teacher screen when ready
Preview student screen before wirelessly displaying
Interactive display support plus touchback
Supports Windows Ink native in Windows applications
Real-time monitoring of student screen and active applications
Launch browser to designated URL
Command attention (blank screens and lock keyboards)
Message individual or group
Includes ScreenBeam Central Management System (CMS) software
Compatible with Windows 10 and Windows 10 S devices (laptops, tablets or two-in-ones)
Does not require additional bandwidth and server to deploy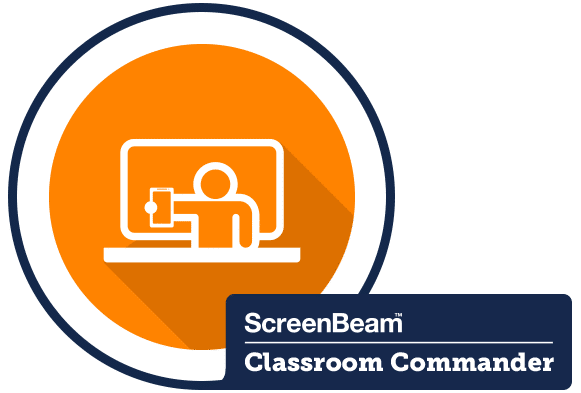 Classroom Agility Enables Proximity Control
Untether teachers to move and interact with the lesson being displayed, making it easy to monitor student reaction and understanding. By enabling proximity control teachers can identify issues quickly, and help off-task students refocus. With teacher permission, students show their work right from their desks or untether from the system and present live at the classroom display. And it's all done quickly and easily, so teachers make the most of valuable instructional time.
Student Device Management Made Easy
View student screens and active applications in real time, or preview a student screen before sharing to ensure the content is appropriate for the class. Whether a single student is distracted, or the entire classroom needs to focus, teachers can blank an individual student or all screens instantly for "eyes up front." Guided learning is made easier when teachers can drive URLs and apps across all student screens, and monitor student progress with the ability to private message single students or groups.
Interactive Learning Enhances Student Outcome
Provide constructive feedback using touchback and Windows Ink. Teachers can annotate comments and questions directly onto the student screen from the classroom display—even when student devices are not touch-enabled. Engage students by supplementing core curriculum with interactive online content and digital learning materials. Popular apps such as Skype in the Classroom, OneNote, FluidMath and LifeLiqe are easier to implement without the constraints of wires.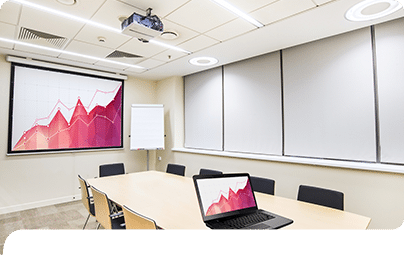 Industry Standard for Wireless Display
ScreenBeam solutions are used as the validation platform for wireless display functionality by companies like Microsoft, Intel, and leading PC OEM and device companies. Actiontec is Microsoft's lead partner for wireless display and worked with Microsoft to develop wireless display capabilities in Windows 10/8.1. ScreenBeam is an official development partner for Windows 10 and is deployed in thousands of Microsoft campus conference rooms across the globe.
Because of Actiontec's deep roots as the industry leader, and our ongoing investment in supporting industry device manufacturers, you can be assured that you're deploying the most broadly compatible, feature rich wireless display platform.
Devices Supported/Compatibility
Windows 10 (Pro/Edu/S) device with Miracast wireless display.
ScreenBeam 960 Specifications
Video H.264. Supports up to 1080p30 resolution
Audio LPCM. Stereo 2.0
A/V Interface HDMI | VGA Out | VGA In (pass-through) | 3.5mm Audio
Ethernet 10x100 RJ-45
Wireless P2P: 802.11ac Dual-Band 2x2 | CMS/Client: 802.11n Dual-Band 2x2
I/O Connector DC Power Jack | USB 2.0 Type-A
Power Input: 5V/2A | Consumption: < 5W
Requirements
ScreenBeam 960 receiver
With latest update to support Classroom Commander (9.24.x.x)
ScreenBeam Central Management System (CMS – included with the 960)
Display TV/Projector with available HDMI/VGA port
Interactive display/projector with USB HID is required to support wireless touch/ink back
Microsoft Store (for Classroom Commander app on teacher and student devices)
Open Non-DFS 5GHz wireless channel (Optional)
Requirements
Minimum
Teacher Device
OS: Windows 10 Pro/Edu/S (64-Bit)
CPU: 4th Gen Intel Core i3 or AMD equivalent/better
WiFi: 802.11AC Dual-Band 2x2
Memory: 4GB
HD Space: 150MB
Student Device
OS: Windows 10 Pro/Edu/S (64-Bit)
CPU: Intel Celeron N3010 or AMD equivalent/better
WiFi: 802.11AC Dual-Band 2x2
Memory: 2GB
HD Space: 150MB
Recommended
Teacher Device
OS: Windows 10 Pro/Edu/S (64-Bit)
CPU: 4th Gen Intel Core i5 or AMD equivalent/better
WiFi: Intel Dual-Band Wireless AC 726x (or better)
Memory: 8GB (or more)
HD Space: 300MB (or more)
Student Device
OS: Windows 10 Pro/Edu/S (64-Bit)
CPU: Intel Celeron N3060 or AMD equivalent/better
WiFi: Intel Dual-Band Wireless AC 726x (or better)
Memory: 4GB (or more)
HD Space: 300MB (or more)
¹ Required for auto-connect and student rostering
LICENSING INFORMATION
As part of our commitment to our education customers, Actiontec® has adopted a perpetual licensing model for ScreenBeam™ Classroom Commander software. The perpetual license allows our customers to use the licensed software indefinitely. For the first year, the perpetual license also entitles our customers to download all standard updates to the software, standard device firmware updates, and to receive technical support.
After the one-year period ends, customers may choose to remain with their last downloaded version or purchase annual renewals which entitles customers to standard updates, and support for an additional year.
Classroom Commander licenses are associated with compatible ScreenBeam wireless display devices, not individual users. Teacher and Student applications are free of charge, but may only be used with Classroom Commander enabled ScreenBeam devices.
LICENSE FEATURES
Classroom Commander Student & Teacher apps are free and can be downloaded from the Microsoft Store (UWP) or ScreenBeam website (MSI).
Licenses start on the date the first receiver is activated, or 90 days from issuance of the license key, whichever comes first.
Active licenses will be entitled to feature and maintenance updates for one year.
Receivers with expired Classroom Commander licenses will continue to support previously active features. However, new features, support and some platform updates will not be available.
LICENSE DELIVERY
A License Key will be provided upon purchase to activate the receiver(s) via email from sblicense@actiontec.com.
Be sure to specify the correct user email address for License Key delivery upon order.
For license and pricing details please contact your ScreenBeam Sales Rep or one of our Certified Elite Partners and mention Catalog #SBCC01L.
ACTIVATION OPTIONS
License Activation Utility

Suggested for manually activating a small number of units. This Windows application requires direct Miracast connection to the receiver.
Utility and instructions are available on http://sup.screenbeam.com/sbcc in the Software section, or will be provided with License Key delivery email.
Central Management System (v2.6 or later)

Recommended for remotely activating a larger fleet of units or units that are already remotely managed.
Latest CMS software is available on http://cms.screenbeam.com or Zendesk CMS section.
Click here for CMS updates or https://actiontec.zendesk.com/hc/en-us/categories/201274123-ScreenBeam-Central-Management-System-CMS-
DEMO MODE
Classroom Commander demo mode supports 1 Teacher and 2 Student PCs.
License activation is not required to use Classroom Commander in demo mode.
Classroom Commander requires a ScreenBeam 960 Receiver with firmware v9.24.1.0 or higher.
Classroom Commander Student & Teacher apps are free and can be downloaded from the Microsoft Store (UWP) or ScreenBeam website (MSI).
Demo mode is active for 90 days
Request a Trial https://www.screenbeam.com/forms/request-a-trial/