Unproductive meetings are an opportunity to change the way teams work together.
Bringing the right tools into play can make all the difference to create positive meeting environments. Today, an enterprise wireless display technology solution can play a significant role to make meetings more productive by enabling wireless collaboration. It's clear that enabling everyone to see and engage with the same information brings true collaboration— but also a unified sense of direction and purpose. It's a definite win for everyone.
According to a recent Harvard Business Review survey of 182 senior managers in a range of industries
"meetings keep them from completing their own work"

65 %

65 %

"meetings are unproductive and inefficient"

71%

71%

"meetings come at the expense of deep thinking"

64%

64%

"meetings miss opportunities to bring teams closer together"

62%

62%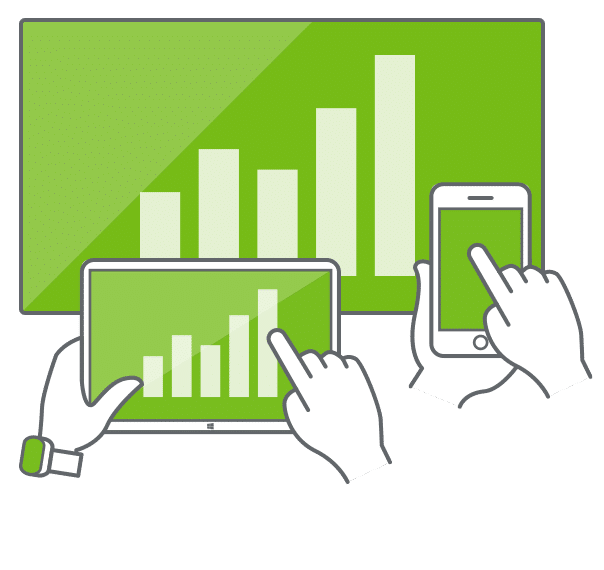 What is Wireless Display?
Wireless display streamlines the process of connecting PCs, tablets, and mobile devices like smart phones to conference room displays and projectors by eliminating the need for AV cables, and HDMI or VGA adapters.
Without cables and wires, presenters are not tethered to the room display and can move freely around the room, while still driving the content on the display. This movement allows for more natural engagement and collaboration, with the entire room or one-to-one.
Many wireless display solutions on the market use existing IP networks and depend on users accessing a wireless access point over Wi Fi to connect.
ScreenBeam solutions create a peer-to-peer connection directly between a device and a room display. In this scenario, no wireless access point is needed, and this option moves heavy video traffic off the network, eliminating latency problems that can plague wireless networks.
What should you look for in a wireless display solution to create the right collaborative environment?
Obviously not every wireless display is the same, but there are common factors to consider.

1. Ease and security of wireless connectivity for enterprises:
Wireless display solutions should be designed to address the needs and demands of modern enterprises. They should deliver connectivity in dense wireless environments and also provide access control, configurability, security, and management capabilities. In terms of security, wireless display solutions should support technology standards ratified by the Wi-Fi Alliance and that used natively by millions of devices on the market so you can trust it.
2. Support for BYOD office environment:
In the workplace, the standard is to have the flexibility to bring your own device (BYOD). Any wireless display solution should be convenient and multi-platform with the ability to support iOS and Android smartphones, as well as MacOS and Windows mobile devices.

3. Ease of use/user experience:
Wireless display solutions are convenient because they eliminate cables and wires. But beyond that, the best options are easy to use and provide the same user experience regardless of what size room or technology users have. Meeting presenters should be able to simply and conveniently tap to connect. And, they should not only have the ease to present from anywhere in the room, but it should also be seamless to quickly change presenters.
4. Easy to support, upgrade, deploy and manage:
Ideally, any wireless display solution selected should offer the capability for IT professionals to centrally manage the displays across an enterprise to reduce the cost of deploying and managing the displays when located in one or multiple buildings.
What kinds of meetings are improved with wireless display?
In the past, meetings almost always involved someone standing in front of a room imparting information. But today, modern meetings are held in many types of environments. No matter the setting, wireless display is the anchor to enable collaboration.
It is imperative to select a wireless display solution that works in any meeting room environment.
In a two-person huddle space: wireless display solutions eliminate peering at small laptop displays to improve visibility and productivity.
Or a small or medium conference room: users should be able to easily connect directly to a display or a projector, or through a room control system.
Or a boardroom: any wireless display solution be flexible to accommodate environments where room control, conferencing and automation are all in play.
Or remote meetings: wireless display solutions should offer the capability to front-end connect to Skype room systems to enable users to wirelessly connect, present, and broadcast to remote meeting participants.
Enable cost-effective collaboration and productivity across your organization.