ScreenBeam Bonded MoCA 2.5 Network Adapter for Highest Speed Internet, Ethernet Over Coax – Starter Kit
ECB7250
Transform your coax wiring into an extremely fast and reliable Ethernet backbone using the most advanced bonded MoCA 2.5 technology. Connect every room in your home – corner-to-corner coverage: from home theater, living room, and game room to home office and learn-from-home spaces, and on multiple levels. You get true multi-gigabit full-duplex speeds wherever there is a coax outlet, for pristine HD and 4K streaming, lag-free gaming, and Extreme high-speed networking for working or learning from home.
Watch this video and learn how everyone in your household will enjoy their own Internet fast lane with the ECB 7250!
Extreme 2.5 Gigabit Ethernet Speeds over Coax
ScreenBeam's ECB7250 MoCA 2.5 Network Adapter transforms your existing coax wiring into an extremely fast Ethernet backbone and creates a bigger pipe for all your network traffic to deliver fast, consistent speeds of up to 2.5 Gbps*. The ECB7250 Bonded MoCA 2.5 Network Adapter is the FIRST MoCA Adapter to have a 2.5 Gigabit Ethernet port that can deliver true multi-gigabit full-duplex speeds, giving you the speed and reliability, you need to handle all of your bandwidth demands for playing, working or learning from home. MoCA 2.5 technology is proven reliable and extremely fast, so you can create an in-home network that gives you the best of both worlds: the solid reliability of wires for faster speeds wherever you need them, with the convenience of WiFi throughout your home.
Multi-Gigabit Speeds to Work and Learn from Home
Video conferencing, online meetings, file transfers and uploads are all heavy traffic for home networks. The ECB7250 Bonded MoCA 2.5 Network Adapter helps to handle heavy bandwidth traffic by instantly converting your existing coax wiring into a solid Ethernet backbone, giving you extremely fast, consistent speeds of up to 2.5 Gbps*. Millions of homes across North America have transformed their home network speeds connectivity and corner-to-corner coverage with the proven reliability of ScreenBeam MoCA Network Adapters.
Skyrocket your Speeds between your Access Point and Router
Create an ultra-fast 2.5 Gbps* "Internet Autobahn" between your Router and a MoCA-enabled WiFi Access Point or WiFi Extender, to expand your Wi-Fi network beyond your primary router, and create a bigger pipe for all of your traffic, meaning faster speeds, steadier connections and less network congestion!  A MoCA network will improve your WiFi performance by WiFi performance by twice the actual throughput of our ECB6250 and other standard WiFi Mesh products, giving your wireless network the speeds and stability of a wired connection for today and into the future.
Reduce Latency and Lag for Screaming Performance
MoCA technology is a proven solution that sends all your network Internet traffic over your existing coaxial wiring in your home.  And gamers know, a wired connection is the best solution for reducing latency and lag.  With ScreenBeam's ECB7250 MoCA Network Adapters you get an extremely stable and reliable connection, and you can extend your network's reach to every room in your home that has a coax outlet.  Create a reliable 2.5 Gbps Ethernet connection between your router and any device with a multi-Gigabit Ethernet port for a reliable, low-latency network.  MoCA 2.5 technology outperforms wireless for speed, latency, reliability, and security.
Put an End to Buffering and Streaming Video Problems for Once and for All
A MoCA connection, instead of traditional WiFi alone, will vastly improve the quality of your video streaming. MoCA transforms your home's existing coax wires into a solid wired multi-Gigabit Ethernet connection, with extreme performance speeds up to 2.5 Gbps, it offers a much faster throughput and a much more reliable signal, perfect for pristine 4K and HD streaming of Netflix and YouTube videos.  Say good-bye to buffering, lag and other streaming and video quality problems.
ScreenBeam's ECB7250 Bonded MoCA 2.5 Network Adapter works over your home's existing coaxial wiring, enabling you to enjoy the reliability and performance of a wired connection without having to wire your home for Gigabit Ethernet. Setup takes less than 5 minutes.  Just plug one MoCA adapter into your MoCA enabled router and another to your HDTV, set top box, PC/Laptop or any other Ethernet ready device. Done!
Advanced Security in Seconds
The ScreenBeam ECB7250 provides additional security on your home network with MoCA Protected Setup (MPS) technology.  You can securely, and easily, connect additional adapters to your home network and enable data encryption with simply the press of a button.
MoCA networks are very fast and extremely reliable. Millions of homes in North America are taking their HD video streaming and online gaming to the next level with an ScreenBeam MoCA solution.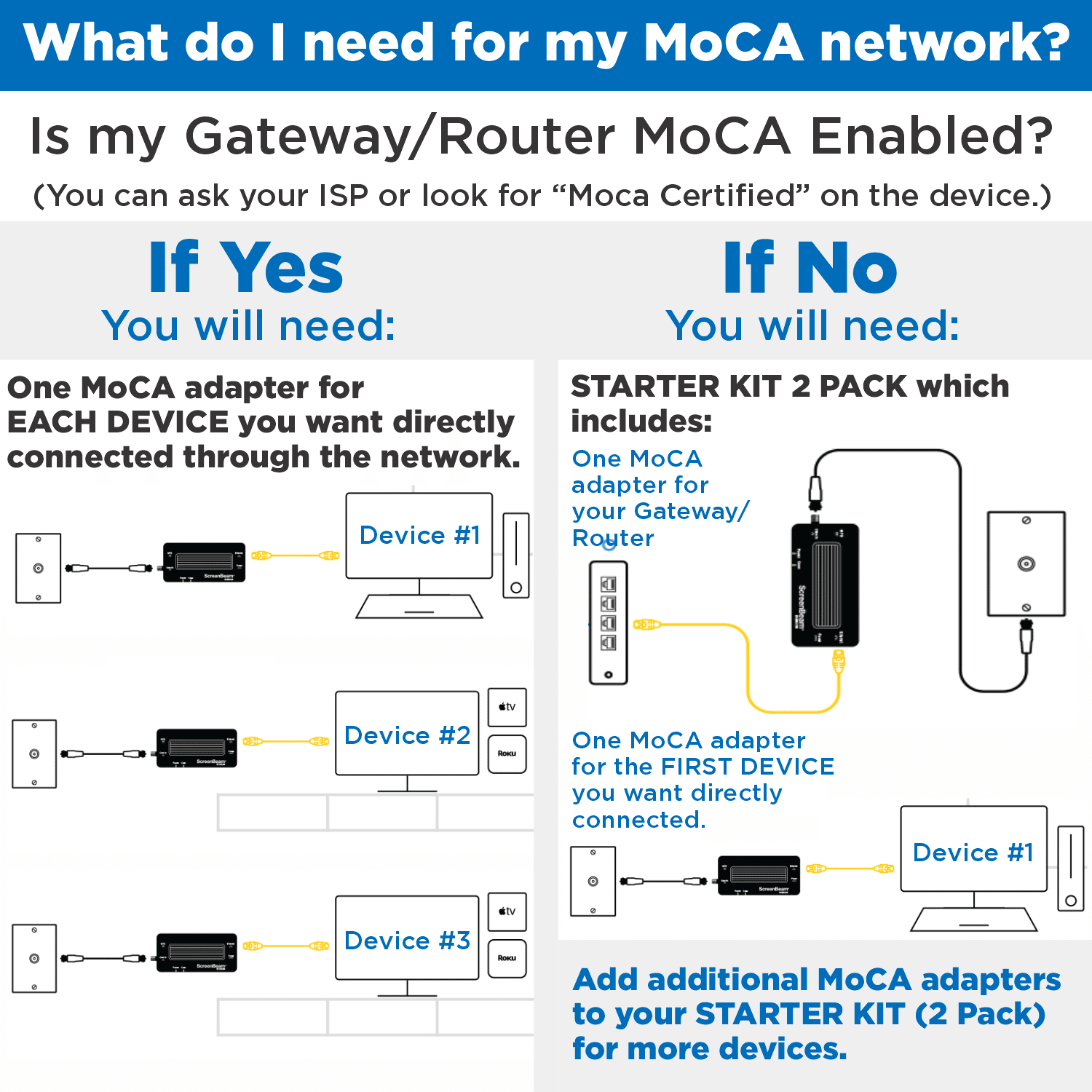 INTERFACES:
- 10/100/2500 Base T 802.3bz
- Connector Type: RJ45
- Configuration: One Port
MoCA VERSION:
- MoCA 2.5
- Backward Compatible with MoCA 2.0/1.1/1.0
ADVANCED SECURITY:
- MoCA Protected Setup (MPS)
REGULATORY:
- FCC 15B
- UL, cUL 60950-1
- ITU-T K.21
- RoHS
- SNE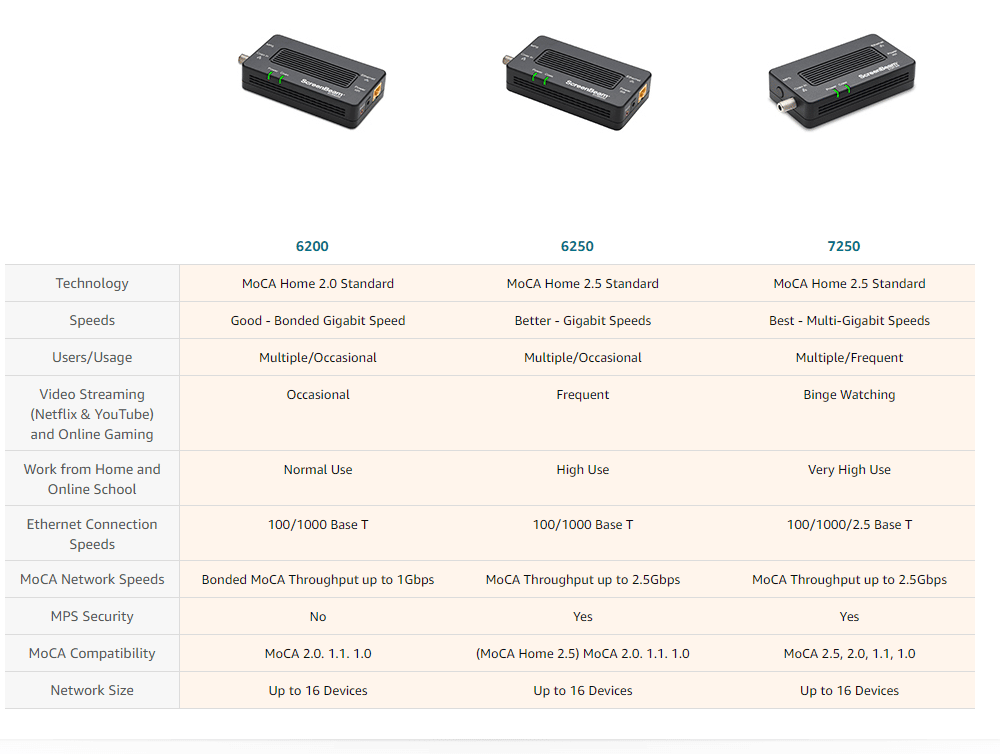 Step 1
Simply connect one MoCA adapter to your HDTV, set top box, access point or other device.
Step 2
Connect another MoCA adapter to your router.
Step 3
Make sure the Power and Coax LEDs (or lights) are solid green.
*Actual speeds will vary depending on the condition and noise found on the coaxial wiring. The maximum throughput over the MoCA network is up to 2.5 Gbps.
** Theoretical data throughput numbers are based on maximum, theoretical PHY throughput for MoCA 2.5. Actual throughput will vary based on the condition and noise found on the coaxial cabling within the home as well as the type of Ethernet Adapter supported on each computer or other device.  Coax outlets and Coaxial wiring must all be part of the same coax system. Certain coax conditions in your home, such as wiring conditions and configuration may affect the performance of this product. A minimum of two ScreenBeam Coax Network Adapters are required to create a network, unless the user has a modem, router or gateway with MoCA built in.
*** Amazon and the Amazon logo are trademarks of Amazon.com, Inc. or its affiliates. Affiliate Link Disclosure.